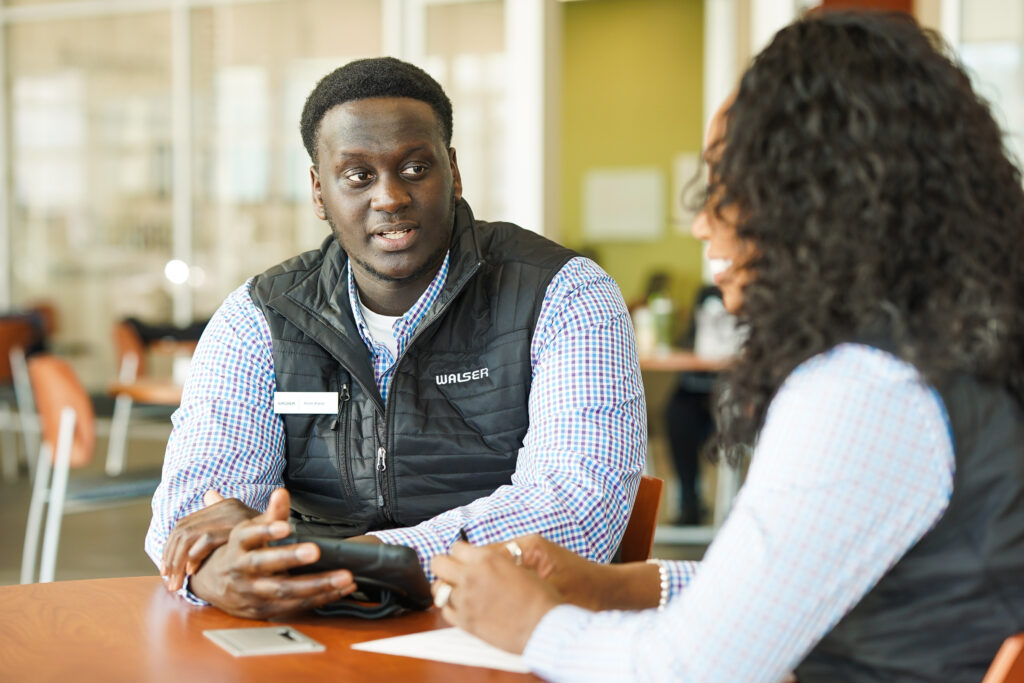 In the ever-evolving landscape of today's job market, internships have become a crucial steppingstone for students and young professionals aiming to pave their way to a successful career. But also, to learn about what they may or may not be interested in doing after graduating or moving on from education. Walser is proud to provide these young professionals with a platform of learning and career development through both mentoring and hands-on experiences.
Why Support Interns?  
Opening Doors
"Connections are everything," still holds true in the professional world. But how do you start this new and unfamiliar world of networking? Internships help open doors to vast networks of industry professionals, mentors, and potential employers. Building meaningful and beneficial connections can lead to valuable references, job offers, and partnerships when made early on in one's career. Having a platform that supports young businesswomen and men makes this process less daunting.
Employer Benefits
Employers find some of their best hires via internship programs. These programs provide a unique opportunity for companies to assess potential candidates firsthand, observing their skills, work ethic, and cultural fit within the organization. As interns immerse themselves in real work projects, employers can gauge their performance, adaptability, and willingness to learn. Top-performing interns often stand out, leaving a lasting impression on employers. When internship programs are designed effectively, they serve as a talent pipeline, allowing employers to identify and nurture promising individuals who eventually become valuable assets to the company.
Newfound Confidence
Another benefit that Internships have is that Internships provide a significant boost in confidence for participants. As interns immerse themselves in real work scenarios, their abilities are put to the test, and they witness their skills making a tangible impact. Successfully overcoming challenges and contributing meaningfully to projects fosters a sense of accomplishment. This newfound belief in their capabilities extends beyond the internship period, empowering individuals to tackle future endeavors with assurance and self-assurance.
Paving a Path for the Future
Does anyone know what they really want to do? Most the time the answer is no. Having an opportunity to narrow down career options is one of the most valuable lessons that an internship can Whether it's coding, marketing, healthcare, or finance, internships serve as a compass, guiding individuals towards the right career trajectory.
How Does Walser Support Young Professionals?
At Walser Automotive, we take great pride in supporting and nurturing the potential of young professionals by providing them with a platform to learn, network, and grow both personally and professionally. Our commitment to empowering the next generation of talent is evident through our robust internship program. We firmly believe that internships are instrumental in shaping the future of the automotive industry and creating a workforce that is innovative, diverse, and well-prepared to take on the challenges of tomorrow. 
Selecting Exceptional Talent
Each year, Walser Automotive welcomes a cohort of promising interns who are carefully chosen through a rigorous selection process. We cast our net wide by posting internship opportunities online, engaging with students at college fairs, and considering recommendations from our valued employees. Our goal is to identify passionate individuals with a drive for excellence and a desire to make a difference in the automotive world.
Hands-On Learning Across Departments
Internships at Walser Automotive go beyond mere observation; they offer meaningful hands-on experiences. We believe that the best way to learn is by doing, so we provide our interns with real responsibilities in various departments such as finance, marketing, and information technology. This immersive approach not only enhances their theoretical knowledge but also equips them with practical skills that are essential for a successful career.
Summer Highlight
In the spirit of fostering a sense of community and collaboration, Walser Automotive hosts a special halfway internship lunch during the summer. This event is a unique opportunity for our interns to interact with their superiors and peers, sharing their experiences and learning from one another. Corporate leaders also address the gathering, sharing insights into the automotive industry and the vision of the company. Opportunities such as these serve as a platform for networking and gaining valuable knowledge from seasoned professionals.
Interested in joining Walser Automotive Group for an internship or full-time employment? Visit our careers page to view openings: Walser Job Search