Family, Flexibility and Work-Life Balance.
We offer much more than a paycheck. Walser is proud to offer a comprehensive, industry-leading benefits package to all of our employees. Walser Automotive Group is like one big family – and we believe in treating our family right.
We work hard and we play hard. Walser offers a progressive, industry leading paid time off policy so that you'll have lots of time to do whatever it is that you like doing.
Medical, Dental, and Vision Insurance
Whether you're just getting off of your parent's insurance plan or have a family to worry about, our comprehensive health benefits have you covered.
We're like one big family here. But when your real family starts to grow, we've got you covered. Walser is proud to offer paid time off for maternal, paternal and adoptive leave.
Life and Disability Insurance
Our benefits go beyond the usual health insurance and include life and disability coverage to give you peace of mind.
401(k) and Retirement Planning
Although we'd love to have our great employees around forever, we understand that after a long career everyone needs a little break. Our 401(k) savings plan with employer match is here to help you reach your retirement goals.
We believe that learning and growing should never stop, and we support that by providing financial reimbursements for approved courses.
Of course we offer employee discounts on new and used vehicles but you'll also get savings on service, parts and accessories. Not to mention discounted tickets to sports games and local events plus much more.
Adoption and Fertility Assistance
We know that families come in all shapes and sizes. We're proud to offer financial assistance and counseling for building your own family.
We love giving back and as a Walser employee you'll have tons of opportunities to join in our charitable efforts. You'll be helping your community, hanging out with some awesome colleagues and having a great time. Talk about a win-win.
Career Planning and Preparation
We're invested in your success from day one. Here there are no dead-end careers; we have a team of experts dedicated to helping you grow and advance your career.
We recognize and reward our best and brightest with dedicated support and training. Leadership is a never-ending journey of discovery and knowledge – and we help you with the road map.
Diversity, equity and inclusion are not just buzzwords around here. We've created Employee Resource Groups to proactively support all of our employees and strengthen our communities. 
All of the benefits are amazing but I'm really grateful for the parental leave. Being able to spend so much time with my daughter when she was born is an experience I won't ever forget.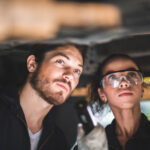 Sounds Pretty Great, Right?
Check out our open positions and find a job you love.