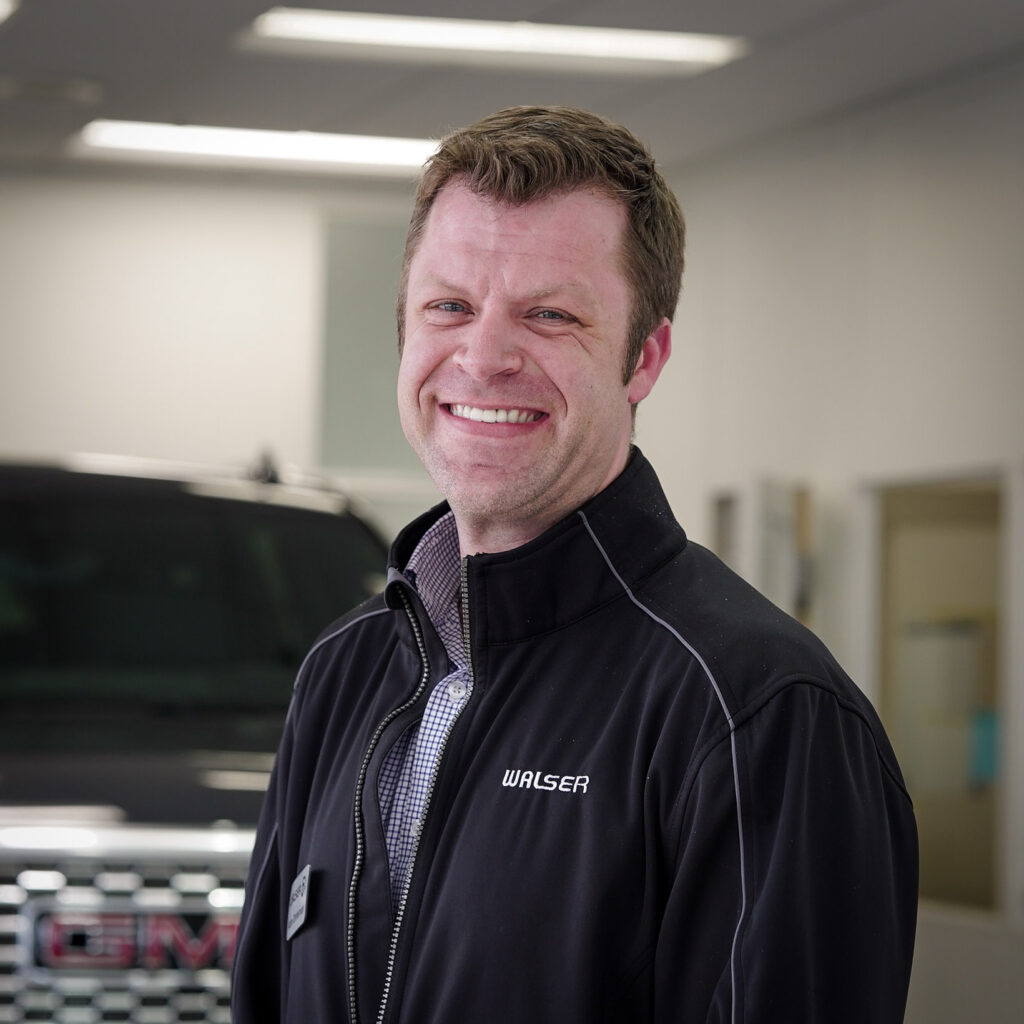 "October 13th, 2009. That was my first day at Walser," said Adam Zimmerman, Service Manager at Walser Buick GMC in Roseville. Adam didn't have to think very hard to recall the date he started at Walser–that's the day his career began.
At 15 years old, Adam dropped out of high school and started working in the construction industry. Adam feels as though entering the workforce at a young age instilled a strong work ethic in him.
"Construction guys are…different," said Adam, "You're either going to learn to work with them and keep pace, or you don't work. So, I learned to work with those guys, and I brought that work ethic into the automotive world."
Adam was a student at Dunwoody College of Technology when a Walser Service Manager, Kirsten Nelson, reached out to discuss his future in the automotive industry. Adam was shocked—and pleased—a company was reaching out to him, not the other way around.
Kirsten understood Adam's main priority was finishing school, so she offered him a part-time role as a car runner at her store. Once he graduated, Adam would have a guaranteed place to start his career in the automotive industry. Adam happily accepted the offer, stoked he didn't have to go through the grueling application and interview process after graduating.
Not having to interview wasn't the only thing that attracted Adam to the automotive industry: he truly enjoyed the competitive nature of being an automotive technician. Construction work didn't give him an edge like automotive work would.
"I could be working next to somebody who makes the same as I did because we're both journeyman carpenters, right? Well, in the automotive industry, you outwork the guy next to you and you make twice as much as him. So, I was all about it."
Upon graduation, Adam started working full-time at Walser Chrysler Jeep Dodge Ram in Hopkins as a lube technician, with Kirsten Nelson as his Service Manager. Adam was a lube tech for six months before he moved up to a semi-skilled technician, where he remained for almost two years.
Adam continued to advance his career, becoming a journeyman, then an advanced-diagnostic technician, followed by filling the role of shop foreman. It was during his time as a shop foreman that people began encouraging him to take the next step in his career: applying to be a Service Manager.
Adam had no desire to be a Service Manager. He thought of it as, "sitting in an office and counting dots on the ceiling," which was not his forte. However, when the Service Manager at CJDR stepped down Adam made the decision to apply, and his hard work was rewarded.
After a few weeks, Adam realized being a Service Manager wasn't just counting dots on the ceiling, but instead was a new set of challenges that he didn't encounter as a technician. Instead of focusing on his own career development, Adam is able to help people grow in the same ways he did.
If you ask Adam, a successful career stems from your own work ethic and dedication. Adam says his best advice for young technicians is to "Hold yourself accountable and to the highest degree of integrity. Keep your head down, work hard, and you'll get somewhere."
Interested in a career with Walser Automotive? Explore our open roles here!